Some people don't like apple coffee cake, and some don't like plain coffee cake. But when you combine an apple with a coffee cake, then you will get something that is unique and different from the others.
How to do it? That's easy. Just take one of each, and you're ready to roll. What should you name your combination? How about "Apple-a-Day Joe"? Now, you know that I am not one to brag for those of you who have been following me for a long time.
This is one of the most straightforward yet tastiest recipes for apple coffee cake. If you are looking for a simple recipe for your family and friends, this is the perfect recipe for you. It is so easy to make, and it tastes great! This dish is one of those that seems like a "no-brainer". Yet, there are so many different things people don't think about when they are preparing a meal for others.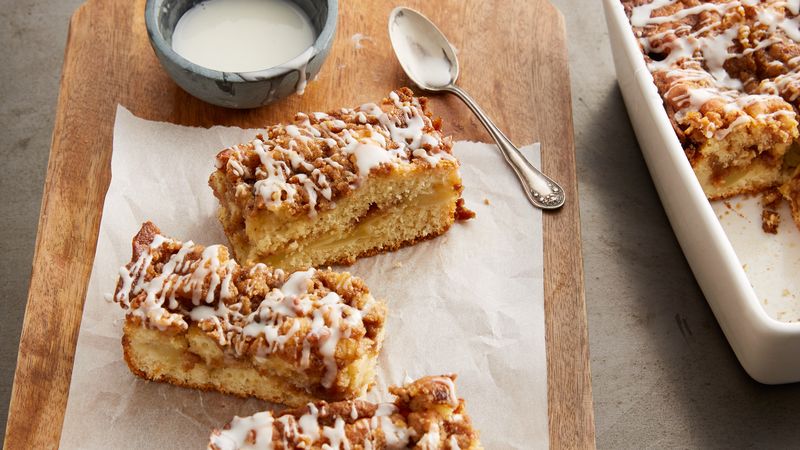 Ingredients:
1 cup all-purpose flour
1/2 teaspoon baking powder
1/2 teaspoon salt
1/2 teaspoon ground cinnamon
1/2 cup sugar
One egg
1/4 cup vegetable oil
Three apples (sliced)
Directions:
Preheat oven to 350°F. Grease a 9-inch square baking dish.
Sift together the flour, baking powder, salt, and cinnamon in a large mixing bowl. Set aside.
In a medium bowl, whisk the sugar and egg until well blended. Add the vegetable oil and whisk again until the mixture is smooth. Add the apple slices and toss to coat evenly. Pour the apple mixture into the flour mixture and stir until all of the ingredients are moistened. Spread the batter in an even layer on the prepared baking sheet. Bake for 10 to 12 minutes, or until a toothpick inserted into the center comes out clean. Let cool entirely on a wire rack. While the cake is cooling, make the frosting.
Don't overmix, or the cake will be tough. Transfer the batter to the prepared pan and spread it evenly. Bake for 30 to 35 minutes or until a toothpick inserted in the center comes out clean. Let cool completely before cutting. Serve warm or room temperature with vanilla ice cream, milk, or whipped cream. Store leftovers in the refrigerator. Re-crisp in a 300°F oven for 5 to 10 minutes.
"The next day, I tried my hand at this recipe, and the results were quite pleasing, although not as crunchy as I'd hoped. After a few more attempts, I found the perfect ratio of butter to cornmeal. I now bake this with the butter melted and the cornmeal added slowly, constantly stirring, until the batter is just moistened.
Conclusion:
Apple Coffee cakes are an easy and delicious recipe loved by almost everyone. This apple coffee cake is perfect for breakfast, snack, dessert, and even as an after-school treat for your kids. If you try this recipe, I am sure you will love it, and your family and friends will also love it.